Myron P. Watson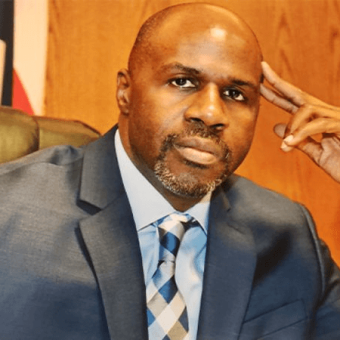 Connect With Us:
Attorney Myron Watson has been in private practice for more than 20 years, specializing in criminal trial law, in both State and Federal Courts. In his legal practice, he has been involved in several high-profile criminal cases which received both local and national media attention. He is truly dedicated to his clients and will fight the tough legal battles to achieve the best result for his clients.
Attorney Myron Watson is a native Clevelander and a graduate of the East Cleveland School System. Being from this area, he knows the people and the legal terrain of this region well. He is a proud graduate of Cleveland State University, where he majored in Political Science. From there, he attended and graduated from Law School at Howard University in Washington, DC. After graduating from law school, he became an associate attorney at Willis Blackwell and Rogers before entering private practice.
Throughout his career, he has built a thriving practice and is recognized as one of the most respected criminal trial attorneys in Northeast Ohio. Many inside and outside the field of law consider Attorney Watson's trial work outstanding. He is also involved in volunteer work for a number of civic organizations in the Greater Cleveland Area.
Court Admissions
United States District Court for the Northern District of Ohio, United States Sixth Circuit Court of Appeals, United States Supreme Court, United States District Court for the Western District of Pennsylvania, United States Court of Appeals for the 3rd Circuit, United States District Court for the Eastern District of Michigan
Pennsylvania, 1991
Honors
Visions and Voices Award, 2007
American Jurisprudence Award, 1989
Pro-Bono Activities
3 R's School Program, 2012 to 2013
Classes / Seminars
Criminal Trial Walk-Thru, Cleveland Metro Bypass, 2013
Published Works
Howard Law Journal, Spring, 1990
Representative Cases
State v. Gales, 134 Ohio App 3d 55, 2001, Eighth District Court of Appeals
United States v. Lewis, 231 F.3d 238, 2000, Sixth Circuit
United States v. Baez, 87 F.3d 805, 1996, Sixth Circuit
State of Ohio v. Clark, 2012-Ohio-2058, Eighth District Court of Appeals
State of Ohio v. Shivers-2016-Ohio-1378, Eighth District Court of Appeals
State of Ohio v. Clay, 2009-Ohio-2725, Eighth District Court of Appeals
United States v. Garrett, Case No. 18-3816, Sixth Circuit Court of Appeals
United States v. Dunson, Case No. 07-4221, Sixth Circuit Court of Appeals
State v. Williams, 2011-Ohio-108, Eighth District Court of Appeals
State of Ohio v. $765 in US Currency, 2009-Ohio-711 (5th Appellate District Court of Appeals
City of Brooklyn v. Murray, 2015-Ohio-2955, Eighth District Court of Appeals
State of Ohio v. Goings, 2022-Ohio-1563, Seventh Appellate District Court of Appeals
State of Ohio v. Gales, 2022-Ohio-776, Ninth Judicial District Court of Appeals
State of Ohio v. Worley, 2011-Ohio-2779 Eighth District Court of Appeals
State v. Coleman, 2009 Ohio 6471 (Ohio Ct. App. 2009) Eighth District Court of Appeals